Baku Food Hackathon was successfully İmplemented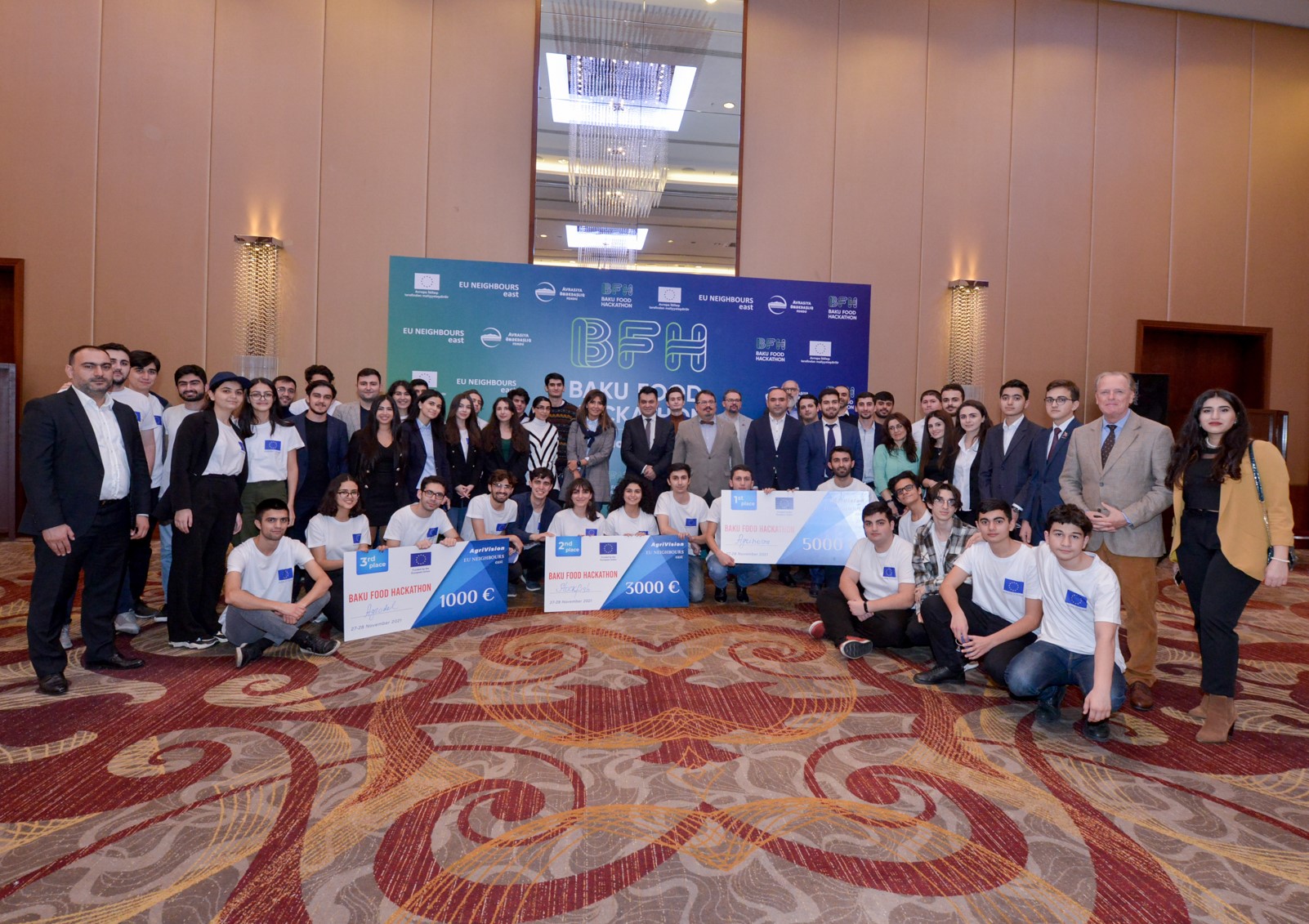 On November 28, "Baku Food Hackathon" was jointly organized by the Delegation of the European Union to Azerbaijan, the "Young European Ambassadors" network, and EU-funded "AgriVision" project implemented by the Eurasia Partnership Foundation and Constitutional Researches Foundation.
The main theme of the hackathon was promoting healthy eating habits, encouraging the consumption of the locally made food products, and creating innovative solutions to food problems in Azerbaijan. In order to make the ideas presented in the hackathon more effective and efficient, the trainings conducted by the Eurasia Partnership Foundation on November 13-14 and 20-21. During the trainings conducted by the experts, representatives of the IT and Start-up communities based in Baku met with local food producers from the regions and acquired knowledge and skills about the most important problems and opportunities related to production, distribution and consumption. In addition, as a continuation of support and assistance to the participating teams, experienced local and foreign mentors were also involved in the Baku Food Hackathon.
It should be noted that a total of 144 application forms were filled out and 13 teams with 55 participants were selected. Criteria such as experience of the participants, innovativeness and real impact of the proposed solutions were taken into account during the evaluation of the applications.
The winner was selected by invited members of the jury, including the Head of the EU Delegation to Azerbaijan, Mr. Peter Michalko, and high-profile experts in the field of agrarian services and innovation. Among the jury there were representatives of government agencies, such as the director of the "ABAD" public legal entity Mr. Rufat Elchiyev, the deputy director of Agrarian Services Agency Mr. Jafar Maharramov, the deputy director of the Agrarian Innovation Center (AIC) Mr. Anar Jafarov and the Head of Department at the Innovation Center under the State Agency for Public service and Social Innovations Ms. Shabnam Mammadova. The selection of the winners was based on criteria, such as the approach to the problem, business model, technological implementation, proposed solution and presentation.

The winning team received EUR 5,000, and the second and the third teams each received EUR 3,000 and EUR 1,000 respectively. Besides, some of the participating teams were offered support by the representatives of government in jury in the implementation of their projects.