EPF İs lookİng for Gender Analyst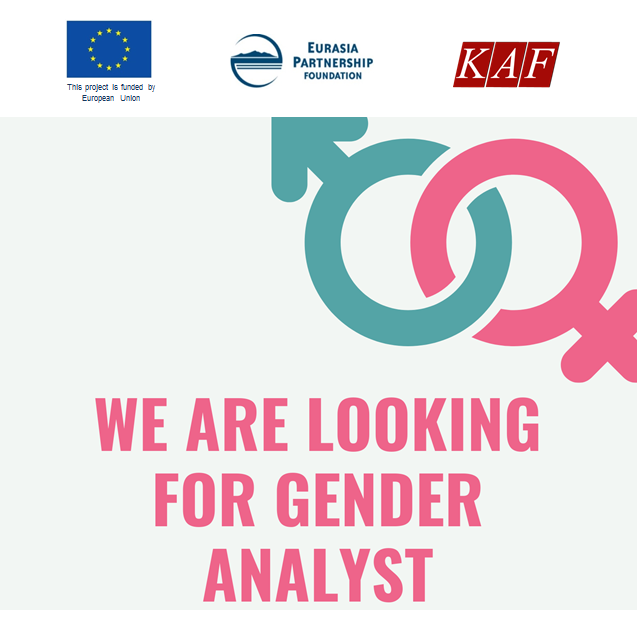 BACKGROUND/OVERVIEW:
With the financial support of the European Commission, Eurasia Partnership Foundation in partnership with Constitution Research Foundation is implementing a 24-month "AgriVision" project in Lankaran economic region. The goal of the project is to create and test a sustainable replicable agro-tourism / ecotourism development mechanism that would help rural households in the southern region of Azerbaijan increase their revenue and intensify the connection between urban and rural in Azerbaijan.
Objectives:
Eurasia Partnership Foundation, Azerbaijan is seeking a highly qualified expert to undertake the role of Gender Analyst who will be providing related expertise and support to both the consortium and project team when and where required. The incumbent will work in close collaboration with the operations, consortium members and projects' staff for resolving issues of different complexity and information exchange. S/he shall promote a quality and results-oriented approach while delivering the assignments.
Scope of Work:
In the scope of the project Eurasia Partnership Foundation will contract the services for Gender Analyst who will work closely with the consortium and the project teams. Specifically, his\her responsibility is include but are not limited to the following:
Conduct gender analysis for the design of the project, and formulate an action plan for a proactive gender-based approach to project implementation, including monitoring and evaluation to ensure that there is continuing awareness of gender mainstreaming issues during project implementation, monitoring of project progress and evaluation of project results;
Conduct a detailed study on the key barriers to achieving gender equality (including social norms, legislative, institutional capacity, political will etc.) focusing on those areas that are of interest to the activity of the project;
A clear assessment of where the project intervention and other stakeholders can add value for achieving country objectives on gender equality (as part of national development);
Realistic objectives/ opportunities for policy and political dialogue;
Verify the project's risk category (low, moderate, high) with detailed rationale (e.g. relating to changes in communities' access to natural resources, the existence of grievance mechanisms for responding to rights and resource access issues, etc.) and define possible risk mitigation options;
Detailed information please is given in attached file:
Interested candidates are invited to send financial offer and CV/resume to info@epfound.az by December 10. Please, write "Gender Analyst" as a position title in the subject line. Only shortlisted candidates will be contacted.